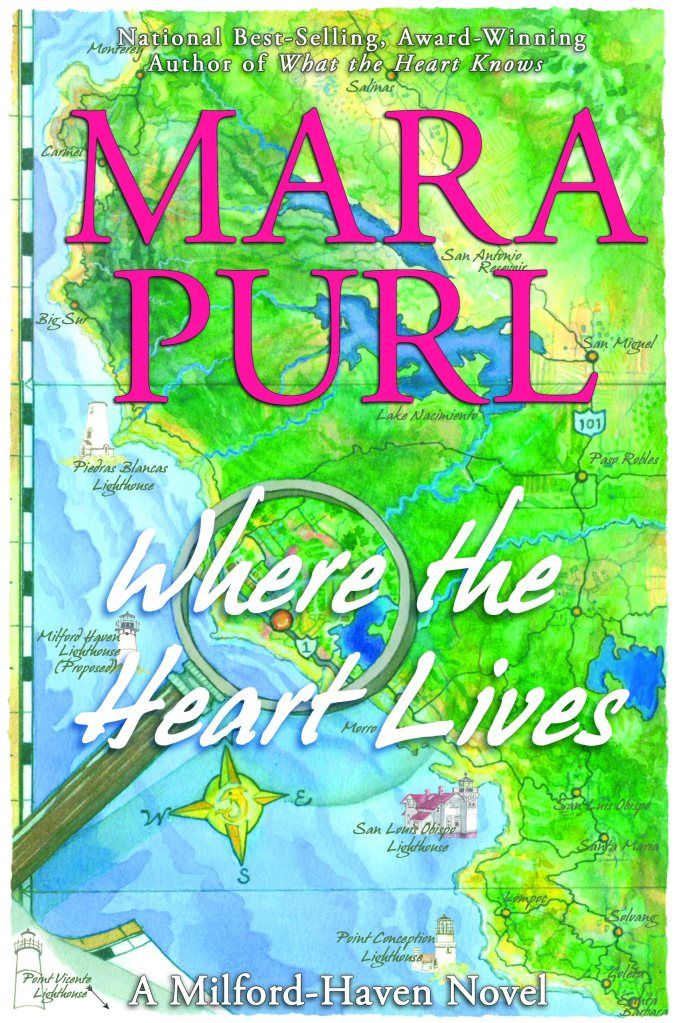 This is a double blog tour which means I have interviewed Mara, and Mara has also interviewed me. Check out Mara's blog http://marapurl.wordpress.com/ to see my answers.
Title: Where The Heart Lives
Author: Mara Purl
Genre: Women's Fiction
Length: 384 pages
Publisher: Bellekeep Books (November 5, 2012)
Synopsis:
Is the heart smarter than the head? Artist Miranda Jones begins to trust her heart enough to escape from her life of privilege and start over in Milford-Haven, the small town of undiscovered beauty on California's Central Coast. She connects with environmentalist Samantha Hugo–a brilliant PhD twenty years her senior who gave up a son years earlier; and with restaurant owner Sally O'Mally who left Arkansas to create her own dream. Each woman wrestles with her own core issues while balancing demanding careers with the attentions of interesting men. None is aware that journalist Christine Christian has just been murdered while investigating a half-built house. Though the book stands alone, it is also Book 1 in the critically acclaimed, popular series, a multi-generational saga. Based on Purl's BBC Radio drama Milford-Haven U.S.A.
Interview:
How many books will be in the Milford-Haven Saga?
You know how popular trilogies are these days? I'm doing something a little different – a pentalogy: five books. And these will be followed by five more. So it'll be ten books all together.
It's been an interesting journey figuring out the structure of the novel series, and it has involved two key elements: the number of books, and the serial adaptation. The story began as a radio drama. The radio drama had 100 episodes . . . so how many books would that be? After many versions and iterations, I arrived at 10, which now seems easy! The most difficult element of adaptation was that the original radio drama was a soap opera a form that's designed never to end. Yet, of course, a book series would need an actual conclusion.
I wanted the structure to come organically from the story itself, not be superimposed externally. So I thought about where the story begins: with journalist Christine Christian. What are the key questions journalists ask? Who, What, When, Where, Why. So this is where the pentalogy came from. And these first five books will answer the Who, What When, Where Why of the Heart. Book one was What the Heart Knows; now we're on book two Where the Heart Lives. Next year's book is book three, Why Hearts Keep Secrets.
One more thing to mention. So that my readers won't have so long to wait between installments, I'm also writing short stories that expand and enhance the saga. Book one had a prequel short story When Hummers Dream, which became my first e-book best-seller. Book two has a brand new prequ­el short story called When Whales Watch that your readers can download right now for free!
What inspired you to write your first novel and to continue writing?
"Story" has been my favorite thing since childhood. Each day, starting at about age five, I would write a story; and each evening, I would perform the story for my family. You know the hearth in front of the fireplace? I thought that was a stage, so I thought I was supposed to do a show every night. I thought everyone did! I don't think I've ever gotten over that initial drive to write and share stories.
As a writer, I enjoyed working in many different styles and formats. I was a journalist (Financial Times of London, Associated Press, Rolling Stone), I wrote screenplays (The Meridian Factor, option­ed by Fox), essays (published by the Christian Science Monitor), non-fiction books (Act Right with Erin Gray). And then I wrote the one hundred radio plays for my BBC radio drama Milford-Haven U.S.A. In the back of my mind, even while I was writing in these other formats, I always knew I wanted to write novels. I also knew I'd have to live more and have deeper insights to offer before I could write the novels I really wanted to write. So it's a great joy to be writing them now. It feels like a calling, not just a job.
Is Milford-Haven based on a real place?
Yes! It's actually based on two real places, one in California and one in Wales. On California's Cen­tral Coast there's a real town called Cambria a beautiful, charming village of artists and crafts­men, entrepreneurs and non-profit founders. I spent a summer there performing a wonderful play and became fascinated by life in a small town. I grew up in a huge city Tokyo so for me, a small town was as foreign and unusual as anything I could imagine. I also felt intuitively that a small-town setting would be perfect as a microcosm for story telling. So I decided to create a fictional town loosely based on Cambria.
Now I had the challenge of choosing a name for my fictional town, and I began with research. Cambria is a Welsh name, so I examined a map of Wales, and discovered that its coastl­ine is, in fact, quite similar to the rugged Central California coastal region. In Wales there's another real town called Milford Haven (no hyphen). It caught my attention particularly when I began rehearsals for another play in which I'd just been cast. I was playing the role of Imogen in Shakespeare's Cymbelli­ne. In it, Imogen receives a letter from her beloved that says, "Meet me in Cambria, in Milfo­rd Haven." Well, that was it!
The next chapter of this real-life story is just amazing. My radio drama was discovered by a BBC executive producer and became the first American radio serial ever broadcast by the BBC. Of cours­e, we were all "over the moon" with excitement. But one thing I did not forsee was that the real to­wn of Milford Haven would want me to visit there. When I did my London press tour, I also took the train to Wales. When I arrived, imagine my amazement at being greeted by the Town Fathers, who gave me a parade down Main Street, and a reception in Town Hall! It was astonishing, and more heart-warming than I can possibly describe. So, I have a forever connection to the people of Milfo­rd Haven, Wales, and am doing research now for a historical novel that will connect the original Milford Haven with my American Milford-Haven. Sometimes life is stranger than fiction!
When you're creating characters do you incorporate traits from people you know?
Yes, sometimes I find a particular trait in a real person just so fascinating that I can't resist incorporating it into a character. I do not, however, "copy" a person wholesale, as it were. I focus on a particular talent or proclivity and imagine how it might work its way into a fictional personality. In general, I'm fascinated by human behavior and choices, and I think a writer of fiction almost has to be, in order to write realistic, compelling characters. So, I might notice a particular behavior and work backward from there, imagining how a person might have arrived at that behavior, thus detecting something about their background and experiences and what makes them "tick."
What was the first thing you did after the debut of the first book you wrote?
I think I did a dance around my office, then did a dance around my husband, then did a dance arou­nd my cat. Then I closed my eyes and felt an overwhelming surge of gratitude. I've come to identify this (in a seminar I teach) as "completion energy." There is simply nothing like the feeling of completing a project, particularly a book project where the pages are between covers in a beautiful pack­age. The next question is . . . what to do with that "completion energy"? I try to channel it into writing the next book.
If an aspiring writer asked for advice what would you tell them?
I spoke recently at two writers' conferences—the Central Coast Writers Conference, and the Women Writ­ing the West Conference and love these nurturing writer communities. ­­We remind each other why we do what we do, despite the long, solitary hours of work. So one thing I say to beginning writers is that this works best as a calling—not a fling, not a way to make a living immediately. But the next thing I'd say to new writ­ers is that the practice of a daily flow of writing can be a transformative, even sacred practice. It can put you in touch with yourself in a way you never imagined. So it has great value, even if it doesn't become your career. If you reach a point that you feel writing is your core work, then give yourself to it and write consistently. The flow of the writing is will bring you to your own narrative voice which is what you'll need to find.
Do you have a favorite song, album, or playlist to write to?
I create special playlists for my writing, music that will take me "into the zone." For example, I just finished my new short story When Whales Watch, and my playlist for that included the amazing breakthrough album Songs of the Humpback Whale—the first real recordings of this species captured by Dr. Roger Payne, who I had the pleasure of speaking with several times. Even though my story features a different species, these remarkable sounds from nature pulled me into the depth of the whale's world, as it were. Almost all my playlists feature works by Pat Metheny, one of my major favorites. And then my new novel Where the Heart Lives actually features the Doobie Brothers. My characters go to one of their concerts and also go backstage. This is based on my own long-time friendship with the Doobies and my love for their music. They agreed to appear "as them­selves" in my radio drama, and in my novel. What fun! Your readers can watch a short video of us talking backstage in preparation for the debut of this novel. Naturally while I wrote their scenes I listened to their rockin' music!
What book are you reading now?
I'm on book tour right now, driving the California coast, so I'm listening to audio books. I'm doing a final sound check of an audio book I just performed by Louise Gaylord, called Dark Lake. I'm listening to Julia Cameron's non-fiction audio book ­­A Prosperous Heart­. And I'm listening to Debbie Macomber's ­­Sooner or Later. Debbie's a wonderful person. We keep running into each other at Book Expo each year in New York, and we both write a women's fiction series about small coastal towns. Mine started twenty years ago, and hers ten years ago, though she was writing women's fiction long before I was.
What are your current projects?
Of course I'm already at work on book three of my Milford-Haven saga, which is titled Why Hearts Keep Secrets. I'm also working on its prequel short story, titled When Blues are Butterflies. I'm writing a new holiday short story, and, at my publisher's request, I'm writing a sequel short story too. I also am now back to writing my blog, which I really love. And I'm working with my friend and co-author Erin Gray on an update of our best-selling non-fiction book Act Right. Geez, writing this list makes me realize . . . as soon as my tour is completed, I better get back to work! But meanwhile, as I travel from indie bookstore to indie bookstore on the California coast, I am so enjoying connecting with readers both in person and on line. Readers are the other half of the writing equation. I couldn't do this work without readers, and I so appreciate your introducing me to a new community of readers through your wonderful blog! Many thanks.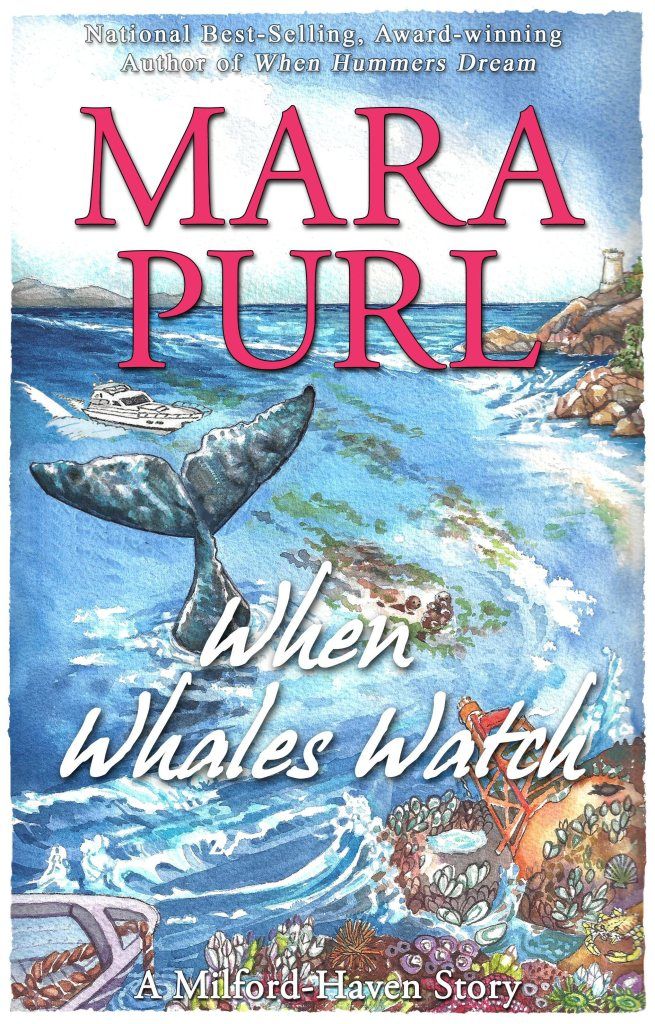 The short story When Whales Watch is FREE to my readers during the  blog tour! you can pickup your copy at http://marapurl.com/2012blog/. And for those who don't have e-readers, on that same special page there is a free pdf download.
In addition to that special bonus download page, there are other goodies my readers can enjoy on Mara Purl's website.
Visit http://marapurl.com/books/when-whales-watch/ you will find a free song called "Save the Whales" that you can download, and in addition there are several "behind the scenes" videos throughout the site.
And one more thing — Mara Purl would love to do a special giveaway to whoever sends the most beautiful postcard to her. She will post it on Pinterest, and will also be happy to send you a copy of the new hardcover. Mara's  postcard page is http://marapurl.com/share-your-postcard-with-mara/