A few days before Christmas I started coming down with a cold, Great! I thought that is all I need, to be ill at Christmas of all times.
I have been quite lucky and not had many coughs or colds last year so though I was in for a horrible one.
I started taking Simple Linctus Sugar Free with Citric Acid Monohydrate to help and hopefully feel a lot more normal before Christmas was actually here as I would hate to feel totally rubbish on that particular day when my daughters were so excited.
I am not really one for medicines as I really don't like the tastes of many, especially cough medicine however the Simple Linctus was lovely. It tasted similar to sherbet.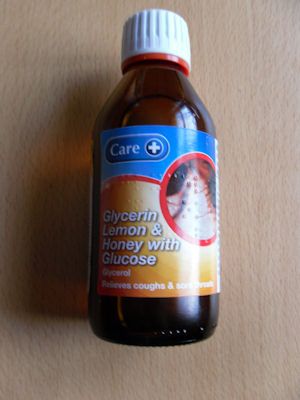 I also tried Glycerin Lemon & Honey with Glucose Glycerol which helps relieve coughs and sore throats. I did have a bad throat when I took this. It did relieve my sore throat although I wasn't too keen on this one. I do not particularly like Lemon flavour so tend to stay away from it. It did help though which I am pleased about.
Thankfully to both of these products I was perfectly well for Christmas so the whole family could enjoy the festivities cough and cold free.
Both of these products are available from Lloyds Pharmacy and chemist nationwide. Simple Linctus RRP £1.59 for 200ml bottle and Glycerin Lemon & Honey Glucose Glycerol £2.79 for 200ml bottle.