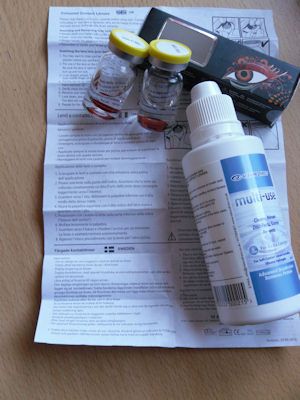 I have always wanted to try special lenses for Halloween parties. I have seen so many different lenses people wear are they look really cool and sets their costumes off perfectly.
VisionDirect asked me if I wanted to review a pair of their Phantasee Lenses and of course I said yes as I am going to a Halloween party soon and I did want to lenses to wear this time as I thought they would make the outfit I am going to be wearing complete.
I was able to pick which lenses I would like and I chose the Volturi lenses as I knew they would add that extra wow to the outfit.
Yes I am very original and am going as a vampiress!
The lenses come in a box around the size of a lipstick box open that up and there are 2 vials each on contains a Phantasee lens. 45% water, 55 % Terpolymer immersed in sterile buffered saline solution. 8.6 Base Curve and 14.0 Diameter.
I also received a bottle of VisionDirect's Multi-Use Solution and Lens case and there were instructions on how to apply and remove.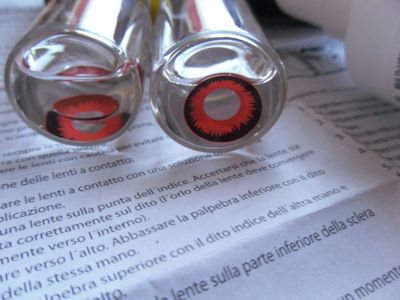 I removed the lenses from their bottles and cleaned them with the Multi-Use Solution and places them in the lens case with more solution for 24 hours to make sure anything that might have been in the bottle with the lenses has been removed. You do not need to soak them for 24 hours.
I know some people hear horror stories about coloured lenses as I had, but this is mainly due to lack of hygiene and cleanliness if you wash your hands thoroughly when touching, inserting and removing the lenses make sure they are kept in the lens case, cleaned and doing just what the instructions or an Optician tells you to do then you will be ok.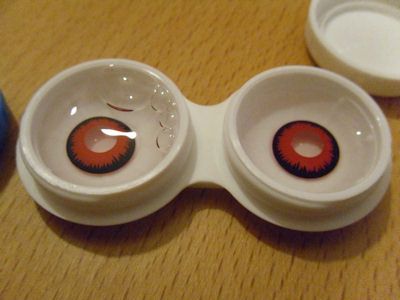 I have really tiny beedy eyes, they seem to sink in a little rather than pop out a little and my eyelids top and bottom do not open very far at all. So as you can tell I have struggled with the process of actually getting them in. My eyes just do not seem to get wide enough no matter what I try.
I have spoken to a lot of people that have used lenses before and they tell me there is a knack to it and once you have managed to get them in the first time you will be able to do it again with ease.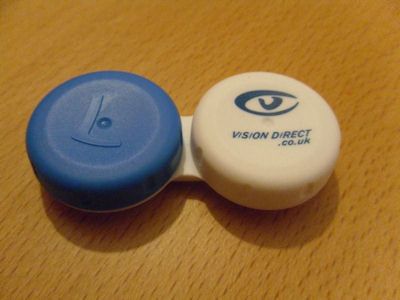 When you have never put anything in your eyes including eye drops, putting something in your eye will cause you to blink. The best thing to do is hold your eyelid up including your eyelashes.
I love the colour of the lenses they are thin so I know they will not feel completely odd when inserted.
I am still persisting with the lenses and as soon as I have them in I will update this post with a photo of before and after eyes and maybe even a photo of me in my costume!
The Phantasee Lenses come in a whole range of colours and patterns, Anime, Cat Eyes/Stabilzers, Cool, Scary/Monster, Space, Vivid Colours, Symbols and Season/Earth and they can last up to 1 year.
They cost £29.00 for a pair and in my opinion I think they are good value. Yes you can buy cheaper but these are being bought from a specialist contact lens site.
For more information or to purchase a pair of Phantasee Lenses visit http://www.visiondirect.co.uk