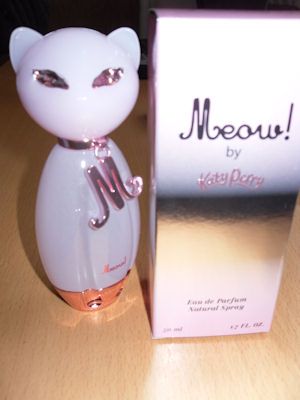 I love perfume as I am sure you are already aware if you have read my blog previously, but if you haven't I like to have a variety of perfumes. Why? Well I don't like using the same one every day because if I did I would smell the same all the time. Whereas if I use a different one then the scent always smells new an fresh.
I was sent a bottle of Meow! By Katy Perry Eau de Parfum. It is in a cute bottle of a pink cat with a M initial as a collar. The bottle itself even has a tail carved into it. I love the design of the bottle it is completely different from what I have seen before. You have to pull the head off of the cat (no animals were harmed while using Meow!) to spray the perfume.
The scent is gorgeous. It opens up with notes of tangerine, pear, jasmine and gardenia. The heart are honeysuckle, lilly of the valley and orange blossom, while the sweet base features aromas of amber, vanilla, sandalwood and musk.
I really love the fruitiness and flower scents of Meow! It is not overbearing in scent either it is just right. Move your wrist and you will get a sudden burst of scent.
My husband has commented that this smells lovely and so have family members when I have worn it when I see them.
This would make a perfect Valentine's Day, Mother's Day, or a birthday gift to that special woman in your life.