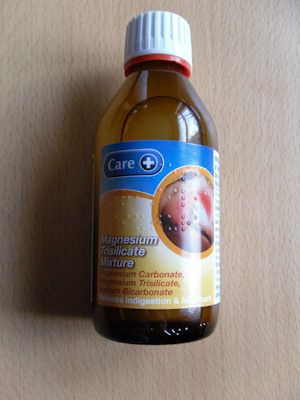 I suffer a lot with indigestion, dyspepsia and heartburn so was so happy when I was asked if I'd like to try Magnesium Trisilicate Mixture.
Sometimes I have such bad pain in my stomach I feel sick and am I pain.
It wasn't long after I received the Magnesium Trisilicate Mixture before I had suffered from the pain in my stomach so it was the perfect time to try it mixture.
I shook the bottle and then put 2 spoons in some water and drank it.
To be honest it didn't taste all that nice but like I have been told many a time not everything that is good for you will taste nice. So I braved it and drunk it all at once.
A few minutes later I had a slight burning sensation in my stomach which I gather was because it had just hit my stomach.
It did work after about thirty minutes the stomach pain was reduced by a lot and I didn't feel sick anymore.
I like this because it is a lot cheaper than the other heartburn and stomach medicines I usually buy. Costing just £1.89 from Lloyds pharmacy and is available in chemists nationwide.