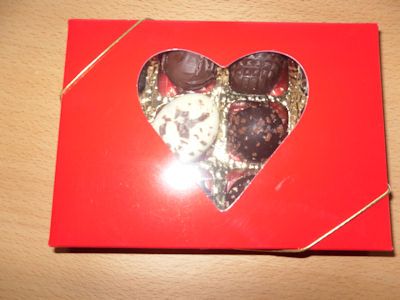 Luxury Gift Chocolates that won't break the bank
Who doesn't love chocolate? I don't think I can name one person that I know of that doesn't. I was sent a box of  Red Heart 12 Chocolates which are luxury gift chocolates by Genevie. The packaging was lovely, perfect for a romantic gift whether it's for Valentine's Day or just to say I Love You.
In the box were12 different Belgian chocolates, champagne truffle,pineapple & coconut, dark orange, advokaat & pistachio, arabica truffle, cointreau, milk truffle, marzipan, coffee praline, nougat white truffle and dark truffle.
The box is packed into another box for postage and is letterbox friendly. Inside that box is the Red Heart box, which is a red box with a heart in the centre, which is great as you get a little look at the chocolates inside before opening.
The chocolates were delicious, My favourites out of them all were the champagne truffle and milk truffle. The chocolate is smooth, creamy and good quality. The flavours in them were impeccable.
I liked the little details that were on each chocolate. The dark orange having a small orange slice on top, the advokaat & pistachio have a pistachio on the top and so on.
They were perfect chocolates for you to have all to yourself or to share.