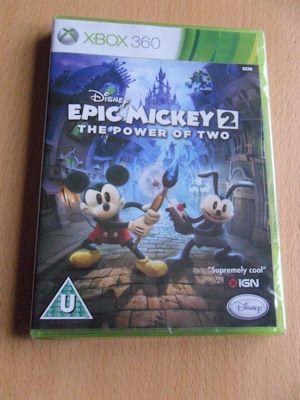 My almost 6 year old daughter is Xbox 360 mad, she likes nothing more than to play on the Xbox when she comes home from school. So I knew straight away what she would be playing the evening Disney Epic Mickey 2: The Power Of Two came.
We didn't really have any idea what the game was about but just jumped in with it without reading anything on what we should be doing.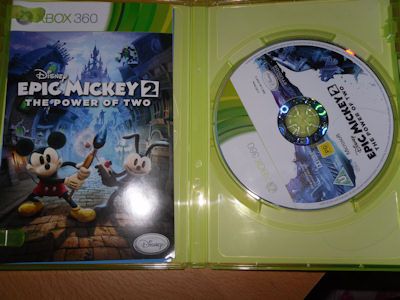 The game starts off with just Mickey which my daughter was not impressed with because she wanted two players from the start. It was quite difficult to get Mickey to jump over to the other side of things and took us about 15 minutes before we managed it but then it started getting easier. It was also hard when Oswald did come into the game as he can fly with his ears and to move across to the other side of one part Mickey needs to toss Oswald in the air, Oswald then needs to fly with his ears and Mickey needs to grab on to Oswald's legs . We tried this several times as a two player game then gave up and let the computer play as Oswald and then we got across first time.
We still have a long way to go before we complete the game but we have played on it for hours and it is great fun. Mickey has a magic paintbrush which he can paint things that need repainting and also thinners which can be great for getting inside buildings.
Oswald has his helicopter ears, a boomarmerang which he can hurl one of his arms to stun an enemy and he can reprogramme things.
Disney Epic Mickey 2: The Power of Two is a great game and it is suitable for all ages. We would definitely recommend it and it would make a great Christmas present!
It is available for Xbox 360, Wii and Playstation 3 consoles from all major retailers now.