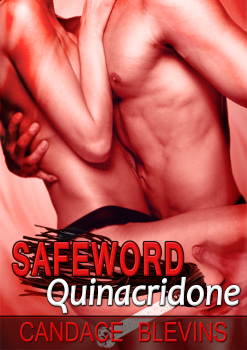 Title: Safeword: Quinacridone
Author: Candace Blevins
Genre: Erotica
Length: 338 pages
Publisher: Excessica (December 28, 2012)
Synopsis:
What happens when an introverted artist who only likes sex when it's a one-night stand meets a computer-geek-extraordinaire with his own sexy secrets? Objectification, romance, pain, adoration, lots of kinky toys, and oodles and oodles of wonderfully imaginative sex.

Join Cara and Travis on their journey to mesh their distinctive sexual tastes into a loving relationship with blow-your- mind kink.
Review:
Safeword: Quinacridone contained a lot of different sexual tastes that may not be for the faint hearted. I felt it was pretty much the same kind of story that we read or watch films about, wealthy man meets poor girl but the play was extreme. I haven't read read that in books before.
Although I knew what I was going to be reading before hand some of the things in the book were quite disturbing and definitely not an avenue I would venture up.
I did read the whole book and it was very different to say the least. It was well written and flowed well. Unfortunately I was a bit too much for me.

About the Author
Candace Blevins is a southern girl who loves to travel the world.
She lives with her husband of 15 years and their two daughters. When not working or driving kids all over the place she can be found reading, writing, meditating, or swimming.
Candace writes romance books about characters who happen to have some extreme kinks. Relationships can be difficult enough without throwing power exchange into the mix, and her books show characters who care enough about each other to fight to make the relationship work.
Each book in the Safeword series highlights a couple with a different BDSM issue to resolve. All books are standalone books and can be read in any order, with the exception of the two Davenport books, since Safewords: Davenport and Chiffon is a sequel to Safeword: Davenport.
You can visit Candace on the web at candaceblevins.com and kinkyeverafter.com
Real Romance * Real BDSM *
Contact Links:
https://twitter.com/CandaceBlevins
http://www.facebook.com/candacesblevins
https://pinterest.com/candacesblevins/
Purchase Links:
http://www.amazon.com/Safeword-Quinacridone-ebook/dp/B00AUIY2XS/