Title: Awaken (Daughters of the Sea 2)
Author: Kristen Day
Publisher: Self Published
Release Date: October 2, 2012
Synopsis:
The sacrifices we make have the power to shift the very fabric of who we are, and ultimately who we are meant to be…

After learning of her true destiny as the intended Leader of the Tydes, Anastasia Whitman must now embark on a perilous quest to the Underworld before the age of eighteen in order to plant the seed of immortality and complete her essence to become a true Sea Goddess. But before she can make her legendary journey, an unexpected new student transfers to Lorelei; initiating a sequence of events that will unravel Stasia's new life, and test the boundaries of her relationship with the mysterious, dark, and sexy Finn Morrison. The line between the Underworld and the Living begins to blur as gruesome ghosts, morbid reveries, and pure evil haunt her waking hours as well as her sanity. Once the details of Finn's own startling destiny are revealed, the dangerous secrets he's been hiding will threaten the very love Stasia believed to be indestructible. As time begins to run out, she will be forced to choose between the one she loves and the destiny she cannot escape.
Review:
Awaken is the second book in the Daughters of the Sea Trilogy and it did not disappoint. Starting off from where the first book left off, Stasia learned that she would go on her quest to the Underworld and plant the seed of immortality and complete her essence so she could become a true Sea Goddess sooner rather than later when she discovers her true birth date. Add to the mix the Princess of the Underworld turns up as a transfer student called Nadia and disrupts Stasia's life, she reeks of evil and darkness, can pull Stasia into reveries and finding out a huge secret that Finn has been keeping from her. It is very gripping.
Like I said this did not disappoint I was throughly gripped. It was very well written and I cannot wait until Chosen (Book 3) is available.

About Kristen Day:
Kristen Day is a southern belle at heart with a crazy streak that desperately tries to escape at every opportunity. She loves all things nostalgic, rustic, and quirky. She's been told she sees the world through rose-colored glasses, but she prefers to think of them as kaleidoscope glasses – swirling and morphing reality into something she can digest (who hasn't pretended those pasty lima beans were really kiwi strawberry jelly beans?).
She is the author of the DAUGHTERS OF THE SEA trilogy, which includes FORSAKEN, AWAKEN (Oct 2012), and CHOSEN (Winter 2012). She loves all books, but really enjoys writing young adult, paranormal romances. She's loved to write for as long as she can remember. Her first published work was her poem RED in second grade (you guessed it – it was a poem about the color red – life altering, right?) that won her 5 gold stars and a spot in her elementary school's poetry book. That's when her addiction to the written word officially began. She was the only kid in fifth grade that actually enjoyed diagramming sentences. Go ahead and laugh – its okay.
When she's not writing she's making jewelry, painting, feeding her addiction to sweet tea, watching the Discovery Channel, or going on random adventures in the mountains of North Carolina with her amazing husband. She was born in Boone, NC and graduated from Appalachian State University with a degree in Marketing in 2001.
Author's Links
Purchase on Amazon
Purchase on Barnes and Noble
Goodreads
Blog
Twitter
Facebook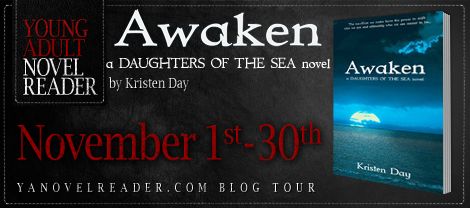 Giveaway
Kristen is giving away these fantastic prizes for her book tour plus 7 e-book copies of Awaken.